Susanne Madsen: Why Project Managers Must Learn to Lead
Topic: Why Project Managers Must Learn to Lead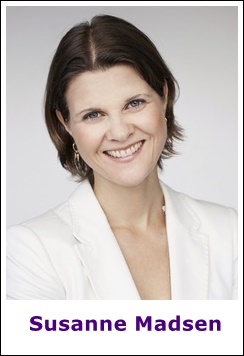 Description:
In today's 'more for less' culture, the expectations of project management and delivery are no longer limited to budgets, schedules and quality. For projects to make an impact and add lasting value to the organization, project managers must be able to strategize, innovate, motivate, empower and collaborate - in other words, project managers must learn how to lead. This interview with Susanne Madsen will reveal how project managers can begin to shift their managerial and task-orientated mindset into one of inspiration, motivation and collaboration.
Questions:
1. You write, teach and blog about the differences between management and leadership and how project managers need to become leaders. Can you explain what the differences are between management and leadership?
2. What are some of the biggest mistakes project managers make?
3. What can project managers do to get better results for themselves and their organisations (clients)?
4. Some organisations are focused on short-term results and measure benefit in terms of time, cost and quality (tactical measures). In which ways can organisations better deliver projects by focusing on longer term, strategic measures?
5. How can project managers better leverage people? (create a high performing team / better relate to stakeholders?)
6. What are some of the most effective ways for organisations to train their PMs to become stronger leaders?
7. Tell a bit about what your upcoming book. When is it out and where can people get hold of it?
Bio:
Susanne Madsen is an internationally recognized project leadership coach, trainer and consultant. She is the author of The Project Management Coaching Workbook and The Power of Project Leadership (Jan 2015).
Prior to setting up her own business, she worked for 17 years in the corporate sector managing and rolling out large technology programs of up to $30 million for organizations such as Standard Bank, Citigroup and JPMorgan Chase.
Susanne specializes in helping project and change managers improve their leadership skills so that they can gain control of their projects and fast-track their career. She does this through a combination of training, coaching, mentoring and consulting.
She is a PRINCE2 and MSP Practitioner and a qualified Corporate and Executive coach. She is also a Member of the Association for Project Management (APM).

CSDT - Susanne Madsen - Leadership for Project Managers.PDF

CSDT - Susanne Madsen - Leadership for Project Managers.MP3